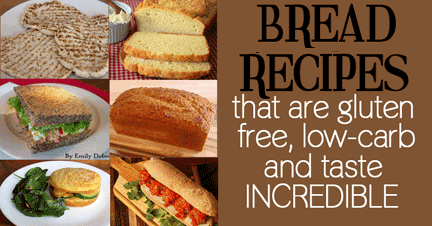 Here are two of them: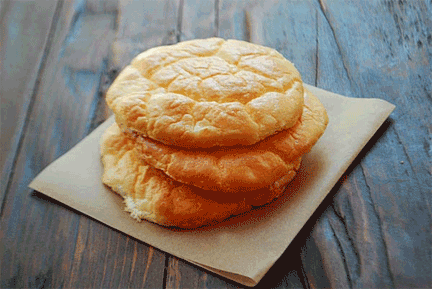 Oopsie Rolls
Recipe type:
Low Carb
Yield:
makes 6 Oopsie rolls
Nonstick cooking spray

3 large eggs

⅛ teaspoon cream of tartar

3 ounces (100m grams) full-fat cream cheese, cold, cubed

⅛ teaspoon salt
Preheat oven to 300 degrees F. Line a cookie sheet with parchment paper and lightly spray with nonstick spray.

Separate the eggs, making sure no yolk gets into the whites and placing the whites in a clean, non-greasy bowl.

Using a clean, non-greasy electric whisk, whip the egg whites and the cream of tartar until stiff.

In a separate bowl, use the same whisk to whisk together the yolks, cream cheese and salt, until smooth.

Using a spatula, carefully fold the egg whites into the cream cheese mixture, working in batches. Work by placing a mound of egg whites on top of the yolk mixture, then gently fold the yolk mixture from under and over the egg whites, rotating the bowl, again and again until the mixture is incorporated. You want to use the folding technique because you want to keep the air bubbles intact in the egg whites.

Spoon 6 large mounds of the mixture onto the prepared baking sheet. Gently press with a spatula on the top of each mound to flatten just slightly.

Bake 30-40 minutes, until golden-brown.


Cool a couple of minutes on the cookie sheet, then gently transfer to a wire rack to cool completely. Store leftovers in a slightly open Ziploc bag in the fridge for a couple of days.
The original lucky mistake that resulted in Oopsie rolls was made by Kimber from Your Lighter Side.
Serving size: 1 oopsie roll; Calories: 91.3 Total Fat: 8.1 g Saturated fat: 3.6 g Carbohydrates: 0.8 g Sugars: 0.6 g Sodium: 124 mg Fiber: 0 g Protein: 4.2 g
...
Ingredients (for bread base):
1 1/4 C almond flour

1 T coconut flour

3 egg whites, beaten until fluffy

2 T olive oil or avocado oil

1/4 C warm water

1 tsp. live yeast granules

1 tsp. coconut sugar (or honey or molasses-- will be eaten by yeast)

1/2 C shredded mozzarella cheese

1/4 tsp. salt

2 tsp. baking powder

1/4 tsp. garlic powder

1/2 tsp. xanthan or guar gum (optional)
Ingredients (for topping):
1 C shredded mozzarella cheese

2 T butter, melted

1/4 tsp. garlic powder

1/4 tsp. salt

1/2 tsp. Italian seasoning
1. Preheat oven to 400 degrees.
2. In a large bowl, combine almond and coconut flour, salt, baking powder, garlic powder and xanthan gum. Stir well.
3. In a small cup or bowl, combine warm water and sugar and stir until dissolved, then add yeast. Set aside for a few moments.
4. To the flour mixture, add olive oil and yeast-water mixture and stir well with a rubber spatula. Add in beaten eggs and continue to mix.
5. Add in the 1/2 C mozzarella shreds and mix gently with your spatula until a nice dough is formed and cheese is mixed well throughout.
6. Grease a 9x9 square cake pan or large cookie sheet. Put batter into cake pan or cookie sheet. If you're free-forming on a cookie sheet, loosely form the dough into a rectangle or square.
7. Bake at 400 degrees for approx. 15-17 minutes or until the sides of the crust turn golden brown. Remove and top.
8. In a tiny bowl, combine butter, garlic powder and salt. Mix well, then brush over the top of the garlic bread base. Be sure to get the butter over every inch!
9. Top the bread with shredded mozzarella cheese, then sprinkle that with Italian seasoning.
10. Bake at 400 degrees for about 10 minutes or until cheese is melted. For final 3 minutes, turn broiler on to brown the cheese.
11. Remove from oven and let bread stand for 5-10 minutes before serving (if you can wait that long).
Nutrition (per 1/10th of recipe): 175 calories, 4 g carbs, 2 g fiber (2 g net carbs), 16 g fat, 8 g protein
To see more bread recopies go to our V.I.P. Recipe Section where you will find hundreds of healthy recipes.